Outdoor Kitchen Trends
Discover how our Creative Director Debs has gathered the inspiration, ideas and advice about outdoor kitchens. If you are not sure on which outdoor kitchen to choose, then look no further and get the best guidance from Debs. From modular, to bespoke kitchens, we can help you choose which outdoor kitchen is the best and most practical for you. We have a range of brands that will provide you with the best outdoor cooking & living experience. 
If you require further guidance, please don't hesitate to Contact us on info@gardenhousedesign.co.uk and 01903 774774, and a member of our Design Team will help you. 
Still need some inspiration? Our Portfolio is full of exciting images and projects we have completed. Therefore, lots of ideas for you to get started on your design journey.
Outdoor Kitchen Trends to consider.
From the simplest freestanding BBQ to the very hi-tech fully integrated outdoor cabinetry, outdoor cooking areas will continue to be part of the design brief for garden spaces in the months ahead.
More than just a BBQ.
BBQ manufacturers were amongst the first to design high quality accessories for their ranges to include different size cabinets, cupboards, drawers, and other elements now deemed essential like fridges, sinks and the like, giving us great components to build fabulous bespoke kitchens for our clients. 
Whilst possibly the intention was to sell more of their appliances, they did a great job at opening up the marketplace getting consumers to re-think about what BBQ cooking and entertaining was all about. No longer is it just a few sausages and burgers, but now adays drinks, brunches and nibbles are now all central to the cooking spaces even when outdoors.  
By introducing water-tight storage spaces it now hides ugly bags of charcoal, BBQ tools and other essentials which are hidden away yet easily accessible when needed.  
Bespoke Outdoor Kitchens.
They are now showing their next wave of innovation with BBQ's being smarter, integrated, electric, and almost cooking the meal for you! Social media platforms buzz with chefs cooking outdoors on their appliances, recipes can be found on-line, and the supermarkets even allocate whole sections on them shelfs to make even a lazy cook appear capable. 
We've also all experienced stay-at-home vacations and re-aligned our thoughts about how we want to life in our homes and gardens, and the manufacturers are right at the top of their game. 
Do be aware however that bespoke kitchens can take quite a lot of design and project management time and you'll need to ensure that you have all the necessary skills to building them, cladding, connecting gas, electric and water and then whether the worktops are also done in-house or by specialists brought in. Sometimes the designs can also be a little limited as the focus quite rightly from these guys is about great cooking.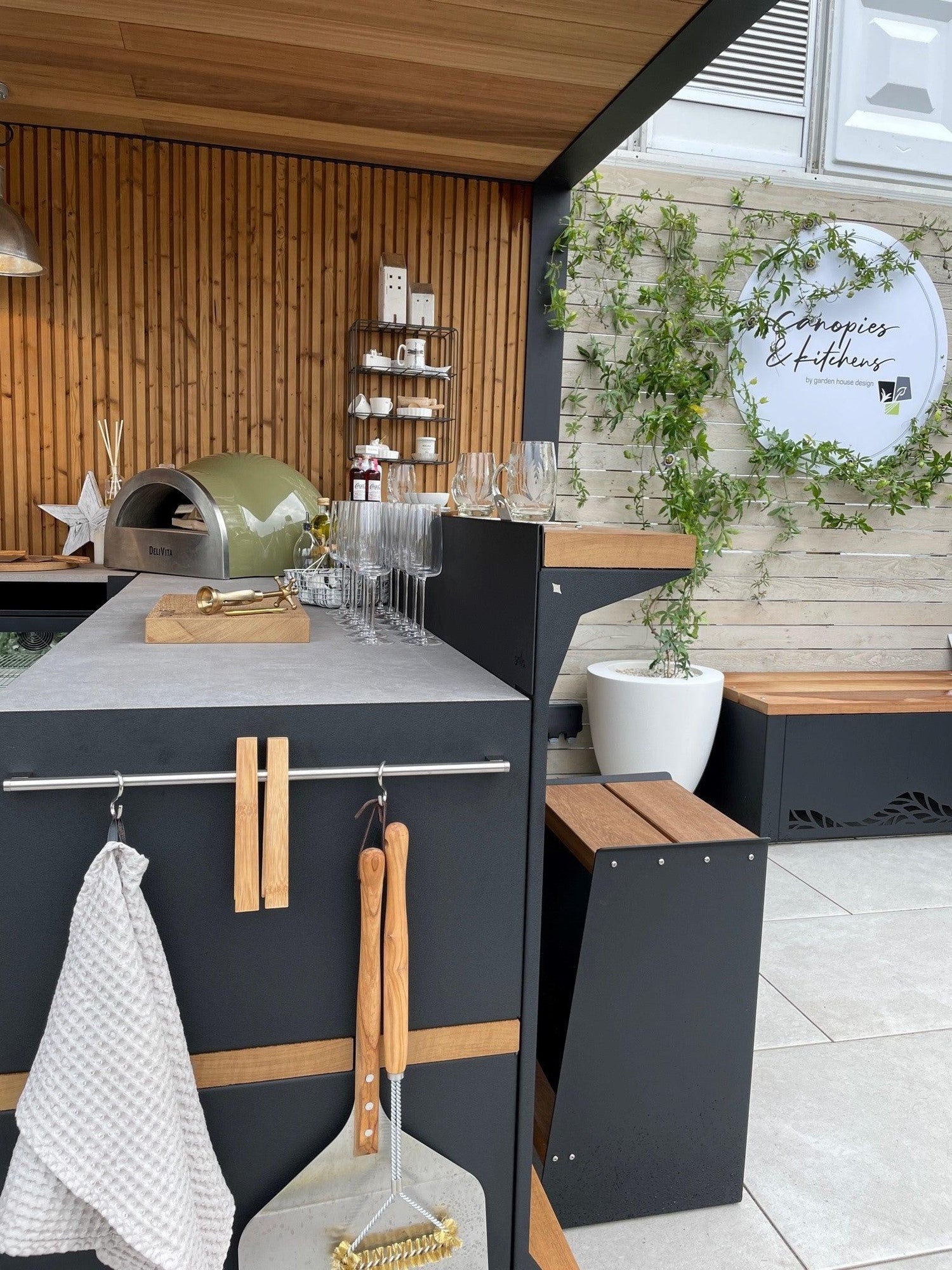 Modular Outdoor Kitchens.
Next entered the NEW kids on the block with us seeing more modular kitchen companies offering great design and innovation, different price points for all budgets and more importantly cutting the design and build time by over half making the landscaping community able to price in outdoor kitchens with the knowledge that the build doesn't over run. Quite large and complicated designs can still be installed by a skilled team within a day, adding a nice and profitable finishing touch to the garden project.  
They've focused more on the overall experience of the customer either keeping the product range simple and less confusing, or in contrast offering a suite of farrow & ball type colours, textures, gadgets and then accessories chosen for their high performance as well design appeal with usually just one or two BBQ choices. A number will also have seating or furniture options matching the kitchens, so you offer a full design proposition.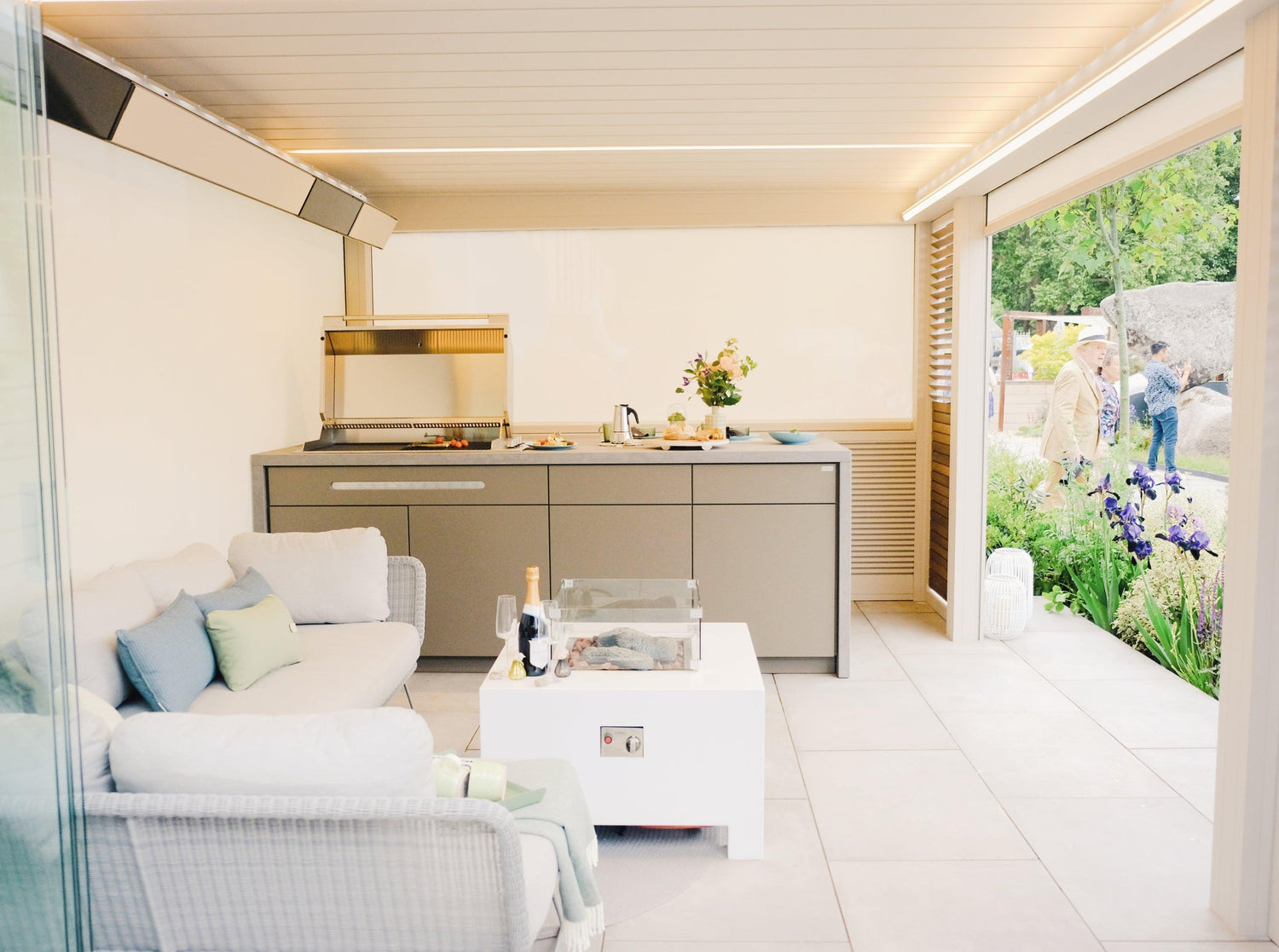 Client's response.
So, we have the supply chain of choice, but how is the client responding? 
In the increase of kitchen design and installs on the up, we see more clients are wanting to be very self-sufficient once in their outdoor entertaining space. Fridges, dishwashers, integrated hobs, and even coffee machines are being requested. Clients don't want to be going back indoors once they are there, and as hosts they want everything to be on hand, stored away and allow themselves to enjoy the space with family and friends. I believe this style of living has very much come from the trend of open plan living, indoors where kitchen, dining and lounging all play a huge part in their modern and possible re-styled interiors. 
Larger kitchens are also being requested, allowing dual cooking methods; gas + charcoal + wood is quite often all featured in the one kitchen space. Double fridges, sit up bars, waste-bins, and plenty of storage.  
They need to go through all seasons due to the investment, so quite often the kitchen area will also require a shelter, so canopy/kitchens are a very making amazing combos. This also allows for the client to put either table and chairs, or more relaxed loungers.  
Accessories has also been considered, planted herb gardens, wine fridges, power points, stylist storage, cutlery dividers again from the interior of finished and styled spaces. 
Anything missing? I wonder if kitchen designs also need to cater for smaller spaces. Maybe 1 cabinet with nice worktop where a pizza oven, small BBQ can be stored underneath and then placed on top but not permanently. This will be great for balconies, pool sides, smaller canopy options and just when it's all about two or three people wanting an intimate outside meal, quick brunches or a spare for delish takeaway and drinks.  Let's see if this takes off! 
Author: Debs Winrow- Creative Director at Garden House Design
Published: Sept 2022 for ProLandscaper Magazine
Fancy a coffee and a chat?
Contact us to book an appointment with a member of our team.
Alternatively you can fill out the form below to get in touch with a member of our team.